The Maldives is

the best place for travelers who want peace from their fast lives. For those who are beach lovers, it's heaven on earth. In the Maldives, there are two ways to choose hotels i.e one in the city at the beach area and the other in the one island hotel. If you choose a hotel on the beachside of a city then it will cost you less. But if you want to explore an Island want to relax more then go to an island hotel.
Island Hotel Maldives will cost you a little more. But now these days it will become one of the best places in Asia for travelers. Choosing the right hotel is a big problem for all. But now all problem is resolved, let's know one of the best hotel in the Maldives.
Hard Rock Hotel Maldives is one of the most popular and visited places in the
Maldives
. This is a five-star hotel and it is located at Akasdhoo, South Male Atoll, Maldives. The distance between male international airport to Hard rock Maldives is about 15 minutes by speed boat. Check-in timing of the hotel is 2:00 pm and check-out Timing is 12:00 pm. Early check-in and late check-out facility is also available subject to availability or chargeable may be.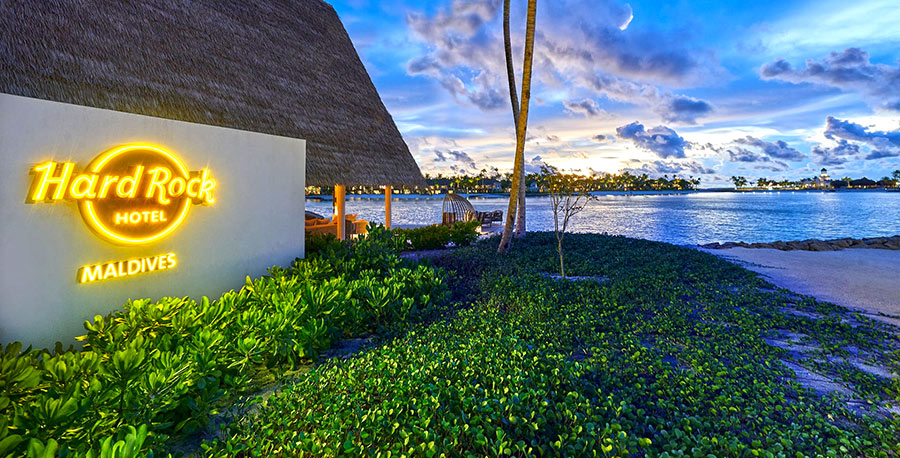 Rooms & Villas Category in Hard Rock Hotel Maldives:


Rock Star Villa

: This room is overwater located and has private boat docking access. Feel like a rockstar if live there. This room has specialties like direct access in the lagoon, sun loungers with outdoor living deck, dining facility outside with outdoor shower and over water relaxing net. This room also has an infinity pool. This room is most luxurious with all five-star amenities. Max 4 people can stay there.




Rock Royalty Overwater pool villa

: This is two bedrooms overwater infinity pool villa. This villa has an oceanfront terrace with a waterfall shower and all five-star amenities are included. In this villa Living room, Outdoor spaces, relaxing overwater net, sun lounges, etc are the special amenities. Max 6 people can stay there.

Platinum Overwater Pool Villa

: This the best and most loving room by travelers as it is pocket-friendly with all five-star Hard rock Hotel amenities. This room featuring a plunge pool with direct access lagoon, 1 double or 2 single bed options with sun lounges with open private terrace includes.Max. 3 people can stay there.

Platinum Overwater Villa

: This is a pocket-friendly room with direct access to the ocean, This room has a specialty of sun lounges, double bed or single bed options, an open private terrace, and located overwater villa. Max 3 people can stay there.

Gold beach Villa

: This room has direct beach access with a beautiful blue lagoon view. Also has all 5-star signature amenities including sun lounges outside. Max 3 people can stay there.

Silver Family Suite/ Duplex

: This room is for 4 adults and 2 children or can say a family room with direct beach access and oceanfront room, beautiful terrace with double bed, sofa bed, and bunk beds for children.

Silver beach studio:

This room has direct access to the beach with a blue lagoon scenic. Featuring a private terrace and a double bed or single bed options with hard rock Maldives amenities.

Silver Sky studio

: This room has the feature of opting between double bed or single bed options, a private balcony with an ocean view, a waterfall shower, and direct access to the beach. Mx 3 person can stay there. Budget-Friendly room with all amenities.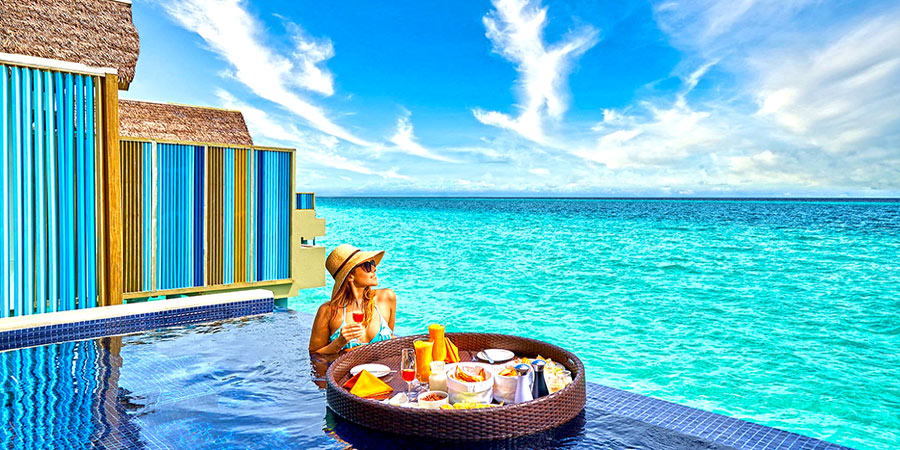 Resuratants and Bar At Hard Rock Hotel Maldives:
Hard Rock Cafe Maldives

: Located at oceanfront with the capacity of 190 guests at a time. Serving lunch & dinner including beverages with a kids menu. Timing 11:00 am to 00:30 am.

Sessions

: This is for chef's specialty cooking for up to 12 guests. Serving Breakfast, Food, Beverages, and wines.Timing(Mon - Sun:7:00 AM to 10:00 AM &11:30 AM to 10:30 PM)

The Elephant and The butterfly

: This restaurant is based on Mexican and Latin American cuisines. Food and beverages are served there at the timing of 11:30 AM to 10:30 PM daily.

Pool Bar

: Beautiful beachfront infinity pool with underwater stools and tunes, waterslides, and special pool menu for all (adults as well as kids) at the timing of 8:30 AM - 10:30 PM daily.
Apart from this, travelers can choose a private beachfront dining experience for their special ones and in-villa dining at the infinity pool for breakfast.

A wide range of meals plan are available at Hard rock Maldives which are:
Breakfast Only

Breakfast and Lunch/Dinner

Breakfast, Lunch, and Dinner

All-Inclusive(Including all 3 major meals, unlimited beverages, Liquor(as per set hotel menu), and special amenities).
Note: Indian menu is also available in Hard rock hotel Maldives.
Other Facility at Hard Rock Maldives:
Beachfront Gym and aqua gym,

Sunrise Yoga

Brazilian Jiu-Jitsu

Beach Games

Daily SunDown rituals

Live Music

DJ and Karaoke Nights

Pool Party

some rocking spa

Kids club

Best for a destination wedding

Meeting and events halls




Some best budget and luxury Hard rock Maldives packages are here:


Aso read:








Share this post to: